Two UGA faculty members named National Academy of Inventors Fellows
---
An excerpt from "Two UGA faculty members named National Academy of Inventors Fellows"
By Terry Hastings
For the full article, please visit HERE
Athens, Ga. - The National Academy of Inventors has named two University of Georgia faculty members to the 2015 class of NAI Fellows.
David Chu, Distinguished Research Professor in the College of Pharmacy, and Wayne Hanna, professor of crop and soil sciences, join an elite group of 582 innovators representing more than 190 prestigious research universities and governmental and nonprofit research institutions.
Election to NAI Fellow status is a professional distinction accorded to academic inventors who have demonstrated a prolific spirit of innovation in creating or facilitating outstanding inventions that have made a tangible impact on quality of life, economic development and the welfare of society. Five UGA faculty members have been named NAI Fellows since the honor was established in 2013.
"The election of David Chu and Wayne Hanna as NAI Fellows highlights the innovative research conducted at UGA," said David Lee, UGA vice president for research. "We join NAI in celebrating their contributions to science and society."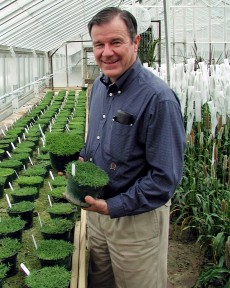 Wayne Hanna, a professor of crop and soil sciences, is world-renowned, especially for his development of superior, sterile, warm-season bermudagrass cultivars bearing the prefix name "Tif," an homage to the location of his decades of research and trials: UGA's Tifton campus in south Georgia. The term "Tif" is recognized in the turfgrass industry worldwide as a symbol of quality.
"Wayne Hanna's career could be considered a success based on numbers alone," said Derek Eberhart, director of UGA's Innovation Gateway, citing Hanna's 16 issued and three pending patent applications; 17 trademarks registered for plant cultivar names worldwide; three issued foreign patents; six Plant Variety Protection certificates; and more than 230 intellectual property agreements related to his cultivars. Hanna's patented plants have generated more than $7 million in gross license revenue plus another $3 million from plants protected by PVP certificates.
"By focusing on numbers alone, though, you would miss the benefit of Dr. Hanna's innovations on the quality of life through the enjoyment of turfgrass, forage crops and ornamental grasses and the economic impact of his plant cultivars to these industries," Eberhart said.
Hanna has authored or co-authored over 660 scientific papers with more than 150 national and international scientists. He received the USDA Distinguished Service Award in 1992, the Agricultural Research Service Outstanding Scientist of the Year in 1990 and the U.S. Golf Association's Green Section Award in 2012. He is a fellow in both the American Society of Agronomy and the Crop Science Society of America. Hanna was also named UGA Inventor of the Year in 2003 and was inducted as a member of the Georgia Agricultural Hall of Fame in 2011.
"Hanna's innovative breeding program, with a focus on industry needs, has resulted in commercially desirable products that have stood the test of time," Lee said. "His practice of extensive testing of potential plant cultivars in different environments resulted in cultivars that are still in the marketplace today, unlike most plant cultivars, which have very short commercial life spans."