Dr. Jerry Johnson receives 2015 Inventor's Award
---
By James Hattaway

Creative Research Awards are given in the sciences, the arts and humanities and the social and behavioral sciences to recognize outstanding bodies of work that have gained broad recognition.
Inventor's Award
for a unique and innovative discovery that has made an impact on the community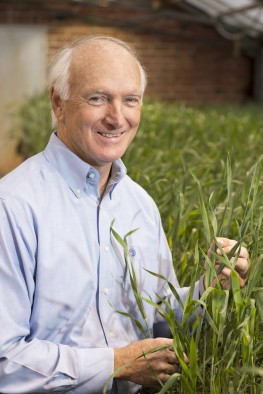 Jerry Johnson, a professor of crop and soil sciences in the College of Agricultural and Environmental Sciences, has developed or co-developed a total of 44 new small grain crop varieties, including several wheat and barley cultivars. His research particularly focuses on the development of plant seeds or tissues that resist common diseases and pests, such as leaf rust, powdery mildew and Hessian fly.

Johnson continues to release approximately two new wheat varieties each year. The total gross license revenue received by the UGA Research Foundation from the commercialization of his varieties totals nearly $3 million. With other land-grant universities, he was also instrumental in establishing the Sungrains Cooperative Breeding Group, a small grain breeding and marketing effort that gives private industry a valuable source for elite new plant varieties. The discoveries made in Johnson's lab continue to benefit farmers throughout the Southeast, who are constantly searching for new crop varieties that promise to increase yields.