At a Glance
TifBlair Certified Centipede Grass is available as sod or seed and is appropriate for home landscaping, roadside remediation, commercial lawns and parks, erosion control and more.
TifBlair Centipede Grass is a slow-growing variety that produces very dense, attractive, weed-resistant turf. More tolerant than Bermuda grass, it produces only stolons (surface runners) so that it is more easily controlled around flowerbeds and walkways.
TifBlair maintains excellent fall color and is exceptionally cold tolerant, and develops deep roots even in poor growing conditions. Its dormant winter color is similar to common centipede. It is generally resistant to most insects and diseases, requiring fewer inputs.
In commercial applications, TifBlair greens up early and stays green longer than many centipede and zoysia varieties. Growth is easy to control and requires fewer inputs, making it a sensible choice for highway medians, airport runways and construction sites. Its tolerance for eroded, low pH soils makes it a versatile choice for landscapes in the southeastern coastal plains, piedmont and mountain regions.
---
Cultivation
TifBlair thrives in acidic soil. Cultivate using sod or seed. One pound of TifBlair Centipede seed covers approximately 2,000-4,000 square feet of ground. TifBlair also can be used to reseed existing landscapes.
---
Mowing
Mow once per week or less to maintain this variety's optimal heights of 1 1/2 to 2 inches. TifBlair Centipede Grass tolerates a wide range of mowing heights suitable for home lawns, landscaping, highway medians, parks etc. TifBlair has low scalping potential.
---
Development
Released by University of Georgia turfgrass breeder and geneticist Dr. Wayne Hanna, TifBlair Centipede Grass was bred to withstand multiple environmental stresses including improved cold tolerance, periodic inundation and waterlogging. TifBlair Certified Centipede Grass is patented and licensed exclusively to The Turfgrass Group Inc. and its sublicensees for sod production. Commercial seed production for wholesale and retail trade is exclusively by Patten Seed Company.
TifBlair seed for sod production is exclusively available from The Turfgrass Group, Inc. Unauthorized propagation is prohibited.
---
Breeder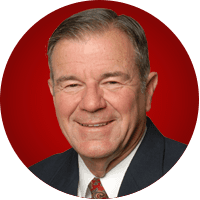 Dr. Wayne Hanna
In his turfgrass breeding program at the University of Georgia, Dr. Wayne W. Hanna focuses on developing seed- and pollen-sterile, low-maintenance cultivars with drought and pest tolerance.
He has developed popular forage cultivars such as Tifleaf 2 and Tifleaf 3 pearl millet, Grazer annual rye grass, TifQuik bahia grass, and Mott dwarf elephant grass. He has also developed commercial turfgrass cultivars including Tifton 10, TifSport, TifEagle and TifGrand Bermuda grasses and TifBlair centipedegrass. More recently he has released purplish/red ornamental Pennisetum hybrids (Prince, Princess, Princess Caroline, Princess Molly, Vertigo, First Knight, Tift 11, Tift 15, Tift 26, Tift 40 and Tift 118) and an ornamental perennial peanut, Cowboy.
Dr. Hanna's research currently focuses on producing seed- and pollen-sterile ornamental grass cultivars (Miscanthus spp., Lovegrass, Rubygrass, Little Blue Stem, Pennisetum alopecuroides, P. hohenackeri, and P. orientale) and on coneless/pollenless pine trees (loblolly and slash) as well as seedless cultivars of cold-tolerant citrus (tangerine, lemon and grapefruit), a variegated Chinaberry tree, and pomegranate.
Dr. Hanna was an Assistant Professor at the University of Florida (Gainesville) from 1970 to 1971. He joined the USDA Agricultural Research Service at Tifton, Ga., in 1971, where he worked cooperatively with the University of Georgia until 2003. Since then, he has been a part-time Professor with the University of Georgia.
He received his B.S. degree in Agricultural Education, M.S. degree in Plant Breeding and Ph.D. degree in Genetics, all at Texas A&M University.