At a Glance
Named after the Ochlockonee (ok-LAHK-uh-nee) River in south Georgia, the Ochlockonee blueberry is a late season rabbiteye blueberry. Plants of Ochlockonee are vigorous, upright and have moderately narrow crowns. They produce abundant fruiting stems annually with only moderate growth.
---
Fruit
Berries are medium- to large-size, high quality and comparable to the Tifblue blueberry, a popular cultivar in south Georgia. Berries of Ochlockonee ripen about one week after Tifblue and are larger in size. Other important fruit characters (stem scar, color, firmness, and flavor) of Ochlockonee are good, being similar to Tifblue and Powderblue.
---
Cultivation
Plants of Ochlockonee generally flower late enough to escape spring freezes in south and middle Georgia. The variety should be planted with other rabbiteye blueberries for cross pollination, and Powderblue is a recommended companion variety.
Both large commercial and smaller growers who want a late ripening rabbiteye blueberry should try Ochlockonee in areas where rabbiteye blueberries are successfully grown. Ochlockonee berries can be mechanically harvested. The estimated chill requirement is 650 to 700 hours 45o F (7o C).
---
Development
Developed by D. Scott NeSmith of the University of Georgia, Ochlockonee is a joint 2002 release by the University of Georgia College of Agricultural and Environmental Sciences and the U.S. Department of Agriculture/Agricultural Research Service. This protected blueberry variety can be sold only by individuals licensed by the University of Georgia Research Foundation (UGARF) and Georgia Seed Development (GSD). USPP 17,300.
---
Breeder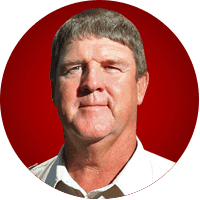 D. Scott NeSmith
Dr. D. Scott NeSmith's blueberry research program at the University of Georgia emphasizes new variety development as well as cultural management of blueberries for the southeastern United States.
Since taking over the UGA blueberry breeding program in 1998, Dr. NeSmith has released and patented 10 new commercial blueberry varieties and two ornamental blueberry varieties. His breeding program is now considered one of the most active low- to-mid chill blueberry programs in the world. He joined UGA in 1990.
Dr. NeSmith has expanded UGA's program globally through collaborative projects throughout the U.S. and many other countries including South Africa, Argentina, Chile, Uruguay, Japan, Europe, Morocco, Australia, New Zealand, South Korea, Peru, and Mexico. Much of his cultural management research has been with growth regulators in blueberries. He also conducts experiments on plant establishment, pollination, and post-harvest quality.
Dr. NeSmith is a member of the American Society for Horticultural Sciences (ASHS) and the International Society for Horticultural Sciences. He is a past President of the Southern Region ASHS and has served as an Associate Editor for the ASHS journal, HortScience.
Dr. NeSmith has received the D.W. Brooks Excellence in Research Award from UGA and in 2011 was selected as a Fellow of the American Society for Horticultural Sciences. He has published more than 250 research papers, including more than 97 in refereed journals, and has received two awards for outstanding publications.
He graduated from the University of Georgia with B.S. and M.S. degrees. He obtained his Ph.D. from Michigan State University.
---
Affiliations
Department of Horticulture
University of Georgia, Griffin Campus